Tailored to your application
Our motors have a bracket designed to fit into a front loader washing machine, however, it can be customised allowing use in various other applications that require high speed. The frame, size and motor performance can be adapted to suit each application.
LEARN ABOUT DIRECT DRIVE
Fisher & Paykel Technologies creates efficient and cost-effective energy systems. If you have a product that requires a customised solution, share your vision with us to collaborate.

High-Speed Motor Range
MAX TORQUE (NM)
OD (MM)
WEIGHT (KG)
MAX SPEED (RPM)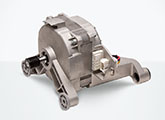 MK 2.4B
240
17000
3.0
280
‍
© Fisher & Paykel Technologies (a division of Fisher & Paykel Appliances Ltd) 2022. All Rights Reserved.