‍
Health and safety should be every organisation's priority, and here at Fisher & Paykel Technologies our team in our QingDao, China factory excelled at that by celebrating 1000 consecutive days with no lost time due to injuries, on 30th June.
The team achieved their target of 1000 safety production days through a multitude of efforts including daily safety meetings, conducting safety audits before products are put into production, rewarding employees who report potential safety hazards, and more.
GM of FPT China, Alex Sun, is looking forward to seeing this success continue into the future.
"It's not only a milestone of our past achievements regarding safety, but also a new starting point for production progress and a better safety production working environment for our employees."
Achieving this milestone was not done overnight, and Quality Manager, Tony Song, said FPT's safety management practice relied on all employees demonstrating correct initiatives and doing risk-prevention in advance. Any safety problems found during product audits must be solved before mass production is approved, making these initiatives all the more crucial to the company's and employee's success.
"Our safety concept runs through the whole product development cycle to guarantee product, user, personnel and lab safety," said Procurement Strategy Manager, Steven Meng. "We take control over the suppliers' and products' quality in the purchasing process to make sure everyone can use safe protection equipment."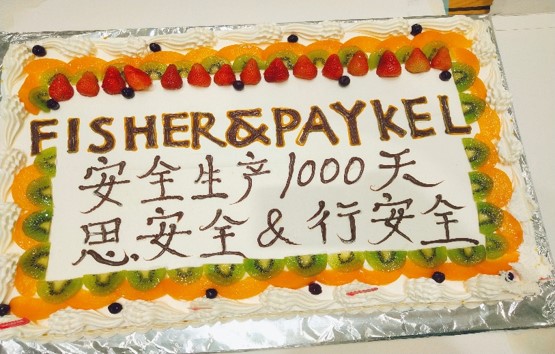 For personnel safety, the maintenance team is responsible for correcting and eliminating potential safety hazards on site, such as checking and changing guardrails and protective covers as well as further improvement of equipment and electrical procedures.
"Let's make great efforts for accomplishing the next 1000th Safety Production Day for FPT." Congratulations FPT China, on your awesome achievement!
‍